About Us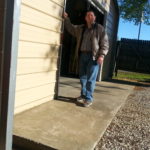 Houston Windshield Repair  has been delivering results since we opened in February 2012. Our goal is to provide both a superior customer experience and tremendous value for our customers.
Eric Bray, Owner has six years of experience in the windshield repair industry and is passionate about exceeding your expectations. He is the first technician in Mississippi certified by the NWRA (National Windshield Repair Association). I am also auto glass safety council qualified in windshield replacement.  If the windshield cannot be repaired, we can replace it.
We love our customers and they love us back. Check out our Testimonials.